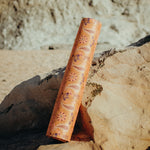 ❀ Flower carpets - ethical ❀
Floral rugs
Made in Asia, in China.
Why China? Quite simply because the country has the raw materials and the necessary know-how:
- the entire production chain (raw materials, manufacturing, printing, etc.)
- 100% of the raw materials come from Asia.
In my opinion, it was obvious to make all the rugs there.
Certified factory
My partner factory was researched at length before being selected.
It has the experience and certifications essential to produce responsible products:
- REACH and RoHS certification.
Regulation that protects human health and the environment against the risks associated with chemical substances. It also promotes alternative methods for hazard assessment of substances to avoid animal testing.
- ISO 9001 certification which guarantees respectful and rewarding team management.
What does this mean for your carpets?
In concrete terms, this means that no SVHC (Substance of Very High Concern) substances are present in sufficient quantity to have an impact on your health and the environment. So Alma lua mats are healthy for you and your body.
The materials
* eco-responsible rubber for the base
* microfiber made from recycled yarns, for the very soft part on which you will practice
* ink with water, eco-friendly process, for printing
❀❀❀