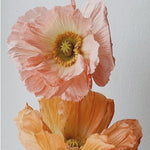 Flowers are the DNA of Alma lua. All the prints I design are inspired by it.
Symbolically, I associate flowers a lot with yoga, with the personal blooming that it allows everyone.
"His heart was connected to that of the flowers. When they opened, so did she»
Mistery of She
I really wanted to go further and offer more than just yoga clothing at Alma Lua. Create a real coherent and poetic universe that finds yoga at its center and opens beyond it to movement, poetry and beauty.
❀
A few months ago, I asked Tessa, creator of the Atelier Grenadine located near Lille, in the North of France, to make a bouquet of dried flowers in warm colors from the first collection *Andarilha * from Alma lua.
❀ The story of Tessa & her *Atelier Grenadine* ❀
Can you tell us about your background, your life before Atelier Grenadine?
After obtaining my baccalaureate, I joined the ESMOD/ISEM school (the management part), during which I did several internships in the world of fashion in Paris. I soon realized that this world was not for me.
Your trip to South Africa?
Subsequently, I went to Cape Town in South Africa for 6 months. I was working in a guest house surrounded by pomegranates and flowers. This enriching experience allowed me to discover myself, to get to know myself and to see life in another way, thanks to the culture of this magnificent city, the encounters I was able to make, and above all thanks to the surrounding nature that characterizes the city. This is where it all started.
It is from this place that my inspiration and my desire to undertake were born. La Grenadine Petite Hotel is a hotel full of charm in the heart of the city center, retro and at the forefront of trends. There is a real eye for detail.
It was essential that there be a connection between my project and this magical place.
L'Atelier Grenadine, its creative floral art workshop, was born in 2020.
What is your relationship to nature? Where does your love for flowers come from?
Nature is my balance, I need to be surrounded by it to feel good. Ever since I was little, the profession of florist has intrigued and attracted me. I even remember feeling a certain euphoria when I walked past the shops.
My grandmother also passed on to me her love for flowers and pretty gardens.
What fears or blockages did you encounter when creating Atelier Grenadine?
My biggest fear was the financial aspect... which is really not my thing! But we quickly realize that when we want, we can! Everything is possible if you are well informed and advised.
Music of the moment: Sur la chemin des champions - Bon Entendeur / Emakhaya - Mlindo the vocalist (African music that inspires).
Book: The Power of Now - Eckhart Tolle
Movie: Lalaland - Damien Chazelle
Routine: I say hello to my lover who supports me 100% in my project, I give my dog ​​a big hug, I have a coffee before going shopping and choosing my flowers , I make my bouquets and I look for inspiration to come up with new ideas!
Favorite flower: all imperfect and wild flowers
❀
Here is the bouquet made by Tessa, in the sunny colors of Portugal: terracotta, ochre, yellow, cream and pink.
The first Alma lua bouquet in a long series!
❀