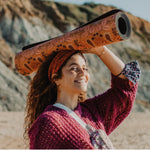 Who is hiding behind Alma lua? My name is Sarah.
Stylist by profession, I like to create, against a background of soaring music with accents from elsewhere, fluid and poetic silhouettes, play with new color combinations, imagine prints that tell a story and above all add and accumulate small details, which make the garment exclusive.
Since the age of my first colored pencils, I have been drawing and superimposing tiny kaleidoscope-like patterns.
Added to this first love is my insatiable passion for yoga. A real love at first sight, for which I validated a Vinyasa Yoga training in 2019.
I roll out my mat... and nothing compares to this sweet feeling of well-being. I reconnect to my body, to my mind, let the natural, spontaneous, fluid movements settle in the incessant search for space in each part of my body.
When I teach yoga, I love following a common thread, finding creative transitions between each posture, choosing music that responds to a theme that inspires me.
❀
Mixing my two worlds, my two loves, to create only one, is a dream that I see coming true through Alma lua.
It is a part of me that I want to see born and grow.
Photo: Claire Vergne ❀