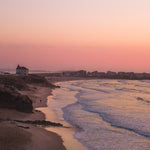 "The story begins. Alma lua, yoga accessories and clothes for every day, with the scent of flowers, the sun and the ocean.
It all starts with the idea of ​​reconciling two things that make me happy in life: creation (imagining, drawing, assembling colors) and yoga, which allows me to be fully connected to myself.
❀ A trip is the trigger.
I travel around Portugal in a van, discover, breathe, live at my own pace, meet nice people and realize that... inspiration is in front of me: the sun, nature, the ocean, warm colors, the charm of Portuguese cities, wild beaches.
Alma, the soul, lua, the moon, is being born in my head and in my heart.
Alma lua is a dream, that of creating yoga clothes and accessories, those that I would like to wear, see live, made with recycled and eco-responsible materials.
A brand, thought out with a lot of love, ethics, in line with who I am, my values ​​and my desires.
I invite you to embark with me on this new adventure! »
Sarah
Photo: Júlíana Björt ❀