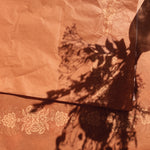 My committed choice for the packaging: 100% biodegradable & recyclable.
It was really important to me to create Alma lua from A to Z in the best possible way for the planet… on my scale.
It was therefore obvious for me to choose packaging that was both pretty, in the bohemian and dreamy universe of the brand and 100% respectful of our beautiful planet Earth.
❀ The subject of waste is increasingly emphasized and so much the better! ❀
It is important for me to contribute to this change in behavior by emphasizing communication on recycling methods and new biodegradable materials to be used.
Alma lua will continue to move in this direction and constantly educate themselves and find the best alternatives.
Let's save and protect the planet together ♥♥♥
❀ Mats and bricks are carefully packaged in recyclable, FSC-certified cartons. **
❀ Clothing and accessories will be in corn-based biodegradable envelopes. Space-saving, with a dreamlike design of the Sand dreamer print, they can even be reusable if you carefully open your orders. It wouldn't be Alma lua if we didn't add little flowery and colorful details that make each order precious.
❀
Custom paper tissue, which wraps your orders, is eco-friendly and FSC certified, acid-free, soy-based ink. **
❀ Packaging tape is water-activated, greener alternative and FSC certified, acid-free, soy-based ink ink.**
❀ Custom paper stickers are durable and FSC certified,acid-free, soy-based ink.**
FSC Certification

The FSC or Forest Stewardship Council certifies that the paper products that make up our custom-printed stickers come from a responsibly and sustainably managed forest and supply chain. FSC forest management standards are developed internationally and then adapted to each country's legal, social and geographic contexts through national standards.

Acid-free paper

Paper stickers are made from cellulose fibers where the active acid pulp is removed during processing. The pulp is also lignin and sulfur free, which means our ink won't transfer from the stickers and the paper won't leave any of these chemicals to decay.

Soy-based-inks

Soy inks are an environmentally friendly alternative to petroleum-based inks. Made from soy, renewable resources, soy inks are slower to dry than many inks. The process produces more vibrant colors and offers the advantage of not rejecting petroleum-based products during decomposition. Soy inks have low levels of VOCs, which reduces air pollution during the drying process.

❀